Equipment ‣ Piloting Equipment ‣ Helm Tools ‣ Tar Barrel
Tar Barrel
Damage to Engines:
20 HP/s for 3 seconds (80 Fire damage)
Skill Cooldown:
3 seconds
Additional Info

Produces tar clouds that do 15 Shatter damage per second to all components inside the cloud. Ships inside tar clouds are 80% less visible. Clouds remain for 30 seconds.
"
(...) release dangerous smog clouds behind you to distract pursuing enemies. I mean, pull that thingamajig to the right of the helm. Err lever.
"

—unknown
Tar Barrel is a helm tool used to damage and lose pursuers of a ship. The ship will create a tar cloud 150 meters behind it when the tool is activated (default left mouse button), and will deal damage to the ship's engines for 3 seconds. At least one engine on the ship must function to produce tar. Breaking the line of sight to a ship using the Tar Barrel can deactivate their mark from a Spyglass. Ships that pass through the tar cloud will take damage to all systems. It can be used to zone out enemy ships and create majority situations. Damaging another ship with a tar cloud will show hit markers to all members of the tar owner's crew.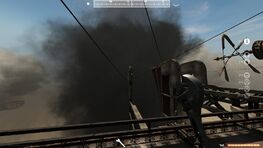 Tar clouds are affected by wind, so the player should be mindful of their ship's orientation in order to utilize the wind to help them put the tar where they want it to go.
Like all helm tools it is only useful for the player flying the ship and has no effect if equipped by other crew members.
Common Usage
Edit
Tar Barrel is commonly used on Squids as a quick escape route, slowing down enemy ships and using the superior acceleration and speed to get out of combat. Due to the Squid's great maneuverability it is the only ship that can reliably use tar clouds as offensive strategy, commonly paired with mines.
The Junker is another ship that can use Tar Barrel to high effectiveness. Its maneuverability allows to turn very fast and accurately place tar clouds into any direction necessary. The Junker's slow speed makes escapes quite hard but slowing down pursuers and losing line of sight is sometimes enough to shake off enemies and get into cover.
All other ships benefit more or less from Tar Barrel but usually don't have a piloting equipment slot available because of other essential mobility tools.