Information
Edit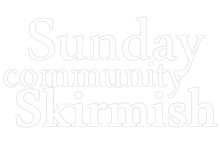 One of the oldest currently ongoing weekly competitive
events in Guns of Icarus
. The event takes place every Sunday at 7pm UTC (3pm EDT). The setup of this event is a 2v2 thus eight player teams are put against each other usually in Double Elimination format. The chosen format depends on the number of teams that sign up – when there's four and more teams the standard Double Elimination takes place, with three teams Round Robin is used and with only two teams Best of 5 is the format of choice. To join this event you need to sign-up at least one hour before the event starts with a full team of eight players. For competing you get the
Skirmisher
title and for winning you get the
Skirmish Champion
title as well as Reinforcement Coins to strengthen your faction efforts. Matches are time limited – 20 minutes with possible overtime.
Complete ruleset | Forum Announcement | Official discord
All of the sign-ups can be found on the Guns of Icarus Forum in the Community Events section. The brackets are always available on the SCS challonge. SCS is traditionally streamed live on twitch by various casters, some of the recordings are uploaded to youtube – recordings of past matches are usually complete with commentary.
SCS Youtube channel | eSports Youtube channel | Lysanya's Lounge
Community – Want to participate or help out?
Edit
Time Traveler
.
If you want to participate but are not able to present a full eight player team, check the discord channel – looking for group. You may find other players in the same situation or you may get drafted by teams looking substitutions.
Past Sunday Community Skirmishes
Edit