Equipment ‣ Engineering Equipment ‣ Fire-Fighting Tools ‣ Fire Extinguisher
Fire Extinguisher
Fire Stacks Removal:
all
Fire Immunity:
4 seconds
Cooldown:
2 seconds
"
Instantly put fires out. For those who play reactively.
"

—unknown
The Fire Extinguisher is a fire-fighting tool used to put out fires on components. It can remove all fire stacks on a component with a short cooldown and fire immunity period - great for fighting fire-starting weapons with low ignition rate. Due to it's inability to repair or rebuild, it is considered an engineer exclusive tool.
In addition, the Fire Extinguisher is a great tool for fighting the Beacon Flare Gun, as it can make the overheated weapon usable in one use, while Chemical Spray will require multiple uses to get the weapon to a functioning state again.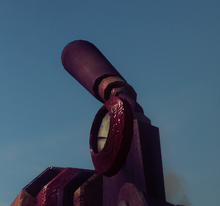 Common Tool Combinations
Edit
Ad blocker interference detected!
Wikia is a free-to-use site that makes money from advertising. We have a modified experience for viewers using ad blockers

Wikia is not accessible if you've made further modifications. Remove the custom ad blocker rule(s) and the page will load as expected.