Maps are the environment of the game. They are either chosen initially by the lobby creator for custom lobbies or are voted for when created by the Matchmaker or in the lobby after each match.
Ships and weapons are locked once a match has started. Classes and equipment can be changed by abandoning the match and rejoining.
All Maps Stats
*Time to fully capture/uncapture point with a single ship. Each additional (allied) ship increases capture rate by 50%.
Deathmatch
Edit
The objective of deathmatch maps is to achieve the goal of kills before the other team does. The amount of ship kills depends on what size of a match is being played.
A kill counts for the score if the other team got at least a single hit on the ship before it died. Suicides without any involvement by the other team don't count as kills, "A Harsh World" will be listed in the kill feed as destroyer of the ship.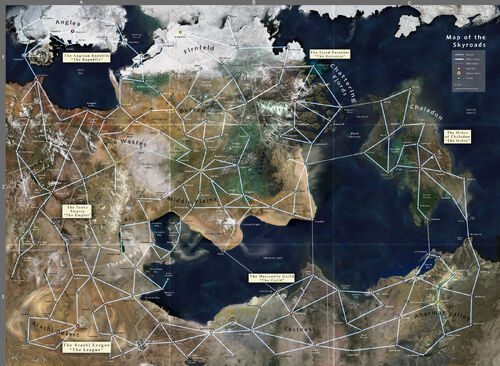 Capture Point
Edit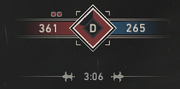 The objective of capture point maps is to achieve the goal of accumulated points before the other team does. The amount of points and time to capture a point depends on each map. The difference between ships from both teams at the point is decisive what team gains capture progress. Each additional ship increases capture rate by 50%.
Each ship kill adds 13 points to the current score.
Crazy King
Edit
Points activate in alphabetical order with the first point randomly selected. The HUD shows the active point, time remaining until point change and accumulated points by each team. The UI map also highlights the current active point.


King of the Hill
Edit
One point in the center of the map, the HUD shows active point and accumulated points by each team.
VIP Deathmatch
Edit
Similar to the deathmatch mode, ship kills count to the score. However in this mode there are only points awarded for kills on ships marked as the "VIP". VIPs are always visible on the map, marked with a special symbol. Both sides have a VIP ship. The top ship in the lobby is automatically the VIP.
VIP on VIP kills gain 5 points.
Non-VIP on VIP kills gain 3 point.
Kills on Non-VIPs gain 1 point.
15 points are required to achieve victory.
The spawn timer is drastically reduced and there are more spawn points available compared to the deathmatch versions of the maps.
Subcategories
This category has the following 7 subcategories, out of 7 total.
Ad blocker interference detected!
Wikia is a free-to-use site that makes money from advertising. We have a modified experience for viewers using ad blockers

Wikia is not accessible if you've made further modifications. Remove the custom ad blocker rule(s) and the page will load as expected.