Components ‣ Balloon
The balloon is a component that can be found on every airship, functioning to keep the airship afloat and serve as its source of vertical mobility. Vertical mobility is a key component of combat, thus, making the balloon a component with incredible priority. The balloon is especially vulnerable to Flechette, Impact and Fire damage types. All balloons of playable ships share a universal value of 1200 HP, balloons of target dummies in practice have 1000 HP and balloons of deployed mines have 200 HP. [1]
Overview
Edit
Functionality and Effects
Edit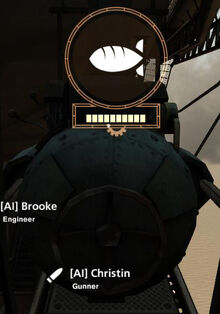 As the balloon takes damage, it will generate less lift force for the ship - with balloon at maximum HP generating 100% of its designated lift force (varies between airships), to the balloon losing lift force linearly according to its HP percentage. I.e. a balloon with 75% HP will generate 75% of its designated lift force, and a balloon with 25% HP will generate 25% of its designated lift force. In addition, as the balloon HP decreases, the longitudinal drag of the ship decreases in an exponential manner, to result in minor top speed and acceleration increase.
When the balloon of an airship breaks, the component will emit a blue glow similar to other components when destroyed to help signal when the balloon is destroyed. it will stop generating lift force and the airship will sink towards the ground with acceleration and top speed matching its vertical acceleration and vertical top speed stats.
Along with the lift force effects, a damaged balloon will also look more deflated on the airship model - allowing for players to recognize how damaged a balloon of an airship is, for tactical decisions. It is important to note that while the model of the balloon might look deflated and effectively smaller, its hit-box stays the same.
Skilled pilots may use a broken balloon as a form of tactical maneuver due to its sudden and quick descent effect - Making such maneuver especially effective on airships with high vertical acceleration stat.
External Buffs
Edit
There are a number of helm tools to change vertical drag and vertical forces. Drogue Chute increases vertical drag to prevent ships from falling, Hydrogen Canister and Chute Vent decrease vertical drag and increase lift force or increase descent force to rise or descend faster, respectively.
Additionally if applied the effect of the Dynabuff Industries Kit reduces vertical drag and increases climb force, allowing the ship to descend or rise much more quickly.
References
Edit