Components ‣ Armor
The armor is a component that can be found on any airship, functioning to keep the hull of the ship safe. As the armor of the ship is up and running, all damage directed to the body of the ship will go into the armor. However, once the armor of the ship breaks - all damage taken by the body of the ship is directed to the hull, making the ship take permanent damage.[1]
The armor is especially vulnerable to Piercing damage type. The armor value varies from ship to ship.
Overview
Edit
Indicators and Effects
Edit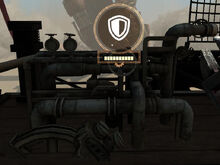 Considering the armor's great importance in the combat system, it is important to note specific animations that occur at different times concerning the armor of a ship.
First, as the armor of a ship is taken down below 50% of its HP, the ship will start leaving a subtle, black trail of smoke behind. On ships with low armor stat, it is a good indicator for knowing when to ready up the explosive damage types - for maximum hull impact.
Second, as the armor of a ship breaks, like every other component that gets destroyed, a blue flash will emerge from the destroyed component. In addition, subtle crushing noise will play, followed by a large cloud of smoke and debris falling off of the ship and a loud sound of the ship's hull screeching. This can both help gunners shooting the ship, or the engineers aboard the ship, to know when to shoot or repair accordingly.
External Buffs
Edit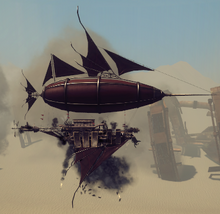 The effect applied by the
Dynabuff Industries Kit
grants the armor 25% increased HP. Even if the armor is not on full health, the buff effect instantly adds 25% of the maximum armor HP to the current health.
References
Edit